Campus day
10.07.2004
Took a moment to snap a few shots of campus around noon, between class & a grant writing seminar. It was a gorgeous Indian Summer day, w/ that mild sunshine & early autumn breeze. If you've never seen Western's campus, this is what the some of the central campus looks like.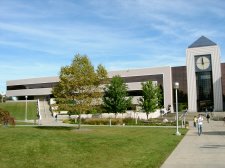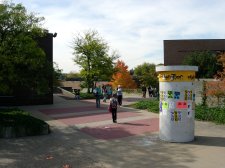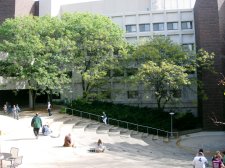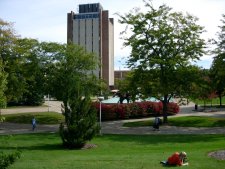 The seminar was one of those sort-of-useful-but-mostly-boring sessions w/ free cookies & coffee & powerpoint lectures. I did get a heads up on a pretty cool, free service through the Graduate College — a subscription to the Community of Science funding database. It means I can search w/in thousands of grant foundations, hoping to find a few I can apply for. Speaking of which, I've put up my Fulbright application, in case it's useful to anyone.
Posted by Miguel at 04:49 PM
Comments
Miguel,
Something to consider: allowing everyone to read your Fullbright app is a kind thing to do, but you should really redact more of the personal information.
Skillful identity thieves could obtain credit cards in you name with the information you've revealed.
Posted by: tom at October 8, 2004 01:35 AM
I tend to be very lax about such things. And I didn't think there was much info in there (no SSN, no mother's maiden name, etc). Certainly no info that's not readily available elsewhere (plus, none of those phone #s or addresses are currently valid). Do you really think this is something I should worry about? I just don't have a way to edit .pdf files to strip them of such info.
Either way, I changed the link to a dBlog post that merely contains the proposal itself.
Posted by: Miguel

at October 8, 2004 02:37 AM
That was a good idea. Yes, I do think that putting up such detailed bio info (even had your parents' names and address) is something to worry about. I've heard it's the fastest growing crime in the US. Something like 10 million Americans were savaged by ID thieves last year.
Posted by: tom at October 8, 2004 08:48 AM
Blue skies, green fields, lots of space. Nice pics.
Posted by: Stephanie at October 9, 2004 01:08 AM