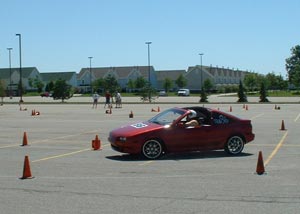 Running the autocross at GVSU

Hello I am Sam Centellas and this is my NX 2000. Many of you might know me as "cruceno21" on the SR20DE Forum, welcome to my page dedicated to the little NX I love working on.
UPDATE
The audio is in, temporary set up... but it is. I also put some neon lighting inside of the car and got her cleaned up nice. Rims back on and she is ready for summer! Too bad I am in Oregon working for the summer and not getting to drive her.
ENGINE / MECHANICAL
Nology Hot Wires with Bosch Platinum 4 Plugs
Air Intake Adapter, Tenzo Filter
Power Stop Crossed-Drilled Rotors
OBX Short Throw Shifter
2.25 inch Custom Exhaust and aftermarket muffler
Front Strut Tower Stablizer Bar
KYB AGX Struts and Shocks
DropZone Adjustable Coilovers
HyperCoil Sport Springs (waiting to be installed)
New Suspension Bushings for Sway Bars
Pasesetter Header and Flexpipe (waiting to be installed)
EXTERIOR
American Racing 17 inch Pinzetti Rims
Kumho Supra Tires - 205/40
Window Tint (got one ticket already)
New Paint (all trim and side mirrors painted body color)
All emblems, antenna, and rear spoiler/wiper filled in
Clear front Turn Signal lens
Custom painted Taillights
Carbon Fiber look vinyl brand logos
INTERIOR
JVC CD Deck
Polk Car Audio Speakers (replaced originals)
Polk GNX Carbon subwoofers - pair of 12s
Custom Painted Trim
Momo Leather Shift Boot (black)
Momo Leather P-Brake Boot (black)
Momo P-Brake Lever (Carbon Fiber Look)
Momo Shift Knob (Silver Combat)
Momo Floor Mats
Momo Thunder Steering Wheel
Carbon Fiber Gauge Overlay
Momo Rookie Seats (black)
RCI 5 Point Harnesses - waiting til spring to be installed
Nismo Shoulder Seat Belt Pads
PICTURES
Pics from 10-01-02
Pics from 03-04-03
Pics from 05-27-03
Pics from 06-07-03 (my first AutoCross)
Pics from 06-27-03
Pics from 09-13-03
Pics from 09-27-03 SpeedWise Show Pics
Pics from 10-25-03
Pics from 04-17-04 SpeedWise Show Pics
Pics from 04-18-04
COMING SOON
Custom Audio set up... my Kenwood amp is not powerful enough for the Polk 12s... so I either need to double up and get another one, or get another more powerful amp. I have a great idea for how the box will be built and how I want to lay the trunk out. Now just need to find the time...