EXTERIOR
It has been a long time coming but the rims are finally on my car. I have a set of 17 inch American Racing Pinzetti rims, wrapped with Kumho Supra rubber and man they look great.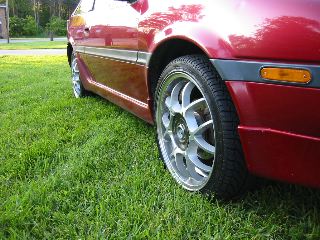 These are my 17s! I am excited to have them on, they will look even better once the car gets my adjustable coilovers and I can drop the car a little for a more agressive stance to match the wheels.Click on image to enlarge.
INTERIOR
My stereo never really worked right. We could not solve the problem and come to find out the ground wire was bad, so we redid that and now it bumps. I picked up a pair of Polk 10 inch subs and once the paint is done we will start on the box and getting an amp and everything all hooked up.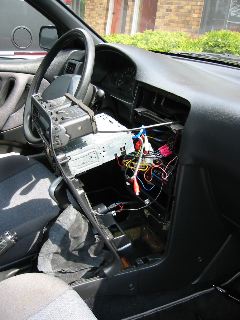 Doesn't that look fun? It is not, don't let the picture fool you. We took that dash apart like ten times before we finally solved the issue. Click on image to enlarge.
In the truck area some work is going on as well. The backseat has been removed, seats belts back there eliminated and ran a power cable back there for when the battery gets relocated to the trunk. This was all pretty simple, Vandenburg Stereo ran the power cable and will do the battery move and setting up my box once it is built.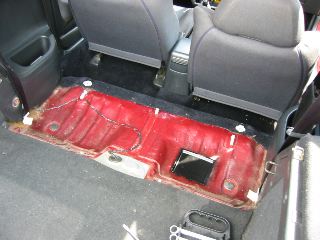 Here is the empty trunk. A few bolts and the seats came right out. I need to get some sound dampener and then start building a new trunk area and speak box.Click on image to enlarge.
Well the body is getting sanded as you read this, and will be in primered soon. Still deciding on paint color or graphics ideas right now. I also ordered my clear lights, just waiting for those.