Fluttering beauty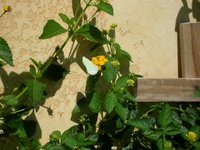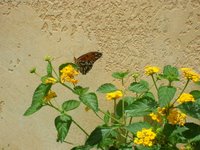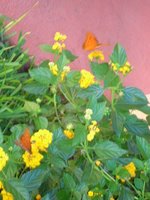 I have a sun burned neck. After several days of rain and overcast skies the sun (and heat) finally showed itself in full glory yesterday. I have been wanting to photograph the butterflies in our yard for a long time. We have fluttering wings scampering all through our flower beds: orange, yellow, white, even monarchs quite frequently. I remember that as kids whenever we'd find a butterfly we'd run to the house for a jar. They were beautiful to me then, but not as frequent and abundant as we have here. I'm enclosing a few snapshots we were able to get. Like restless three-year olds, they don't stay still, their wings constantly fluttering, so it was hard to get good shots

It has been a tough last couple of weeks. Have had some news from loved ones that has been unsettling, and have had some minor nusances with the house: we found termites had burrowed into a doorframe on Thursday - must have been only a couple of days (those two days I didn't do housework due to my Christmas art project?) but they had already chisled away a good portion. We were able to capture a couple of the culprits, Daniel checked on the internet and then headed straight to the gardening shop for treatment. We had the entire house fumigated. The next day one of our drains was clogged. Upon insepction of the septic system Daniel found that the tree out front had extended roots into the system. So the tree has to go. Day three: upon inspecting the attic, Daniel discovered that we had broken tiles that had to be dealt with immediately - the rainy season has begun.
I shouldn't be surprised. Last week our Bible study was about suffering from I. Peter: why it is common to ALL, how it serves to strenthen us, and how God can use it to bring Glory to his name. Thank God for butterflies and flowers and loving friends who hold each other up and remind us of God's grace.
I quote from a portion of I. Peter that we are studying: "Humble yourselves under God's mighty hand, that he may lift you up in due time. Cast all your anxiety on him because he cares for you. Be self controlled and alert. Your enemy the devil prowls around like a roaring lion looking for someone to devour., Resist him, standing firm in the faith, because you know that your brothers throughout the world are undergoring the same kind of suffering. And the God of all grace, who called you to his eternal glory , after you have suffered a little while, will himself restore you and make you strong, firm and steadfast."
Enjoy God's grace as seen in the beauty of small things like butterflies.