Posting requires patience!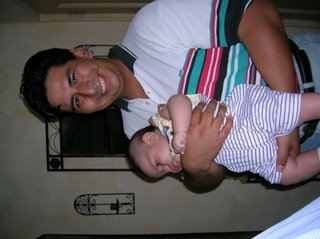 This is the second blog regarding Sunday April 6. Hopefully I can get it all this time.
Daniel and I hosted the Centellas family birthday bash at our house on Sunday. About 25 people squeezed into out home to enjoy all kinds of foods as we remembered Claudia and Miguel who celebrate the 7th, Daniel having his 60th on Thursday and remember GRandma Centellas whose birthday was the 4th. So we had humintas that Graciela learned how to make from Abuelita, homemade Donuts made by Lea who is always trying out new sweets on all of us. I produced several loaves of my cheese bread with lots of spreads, and alforjes - those fruit filled cookies Grandma always made for her little store and which our boys always liked. Of course, topped off with traditional cake and fruit.
The pictures are of Daneil and three of his brothers, me playing RummyCube with Graciela, Lea, and Mayra, and hopefully I can get David and his son Christian in this blog. Christian is the youngest Centellas, born just several hours after Javier. We had a good time eating and catching up with each other.