Two for the Price of One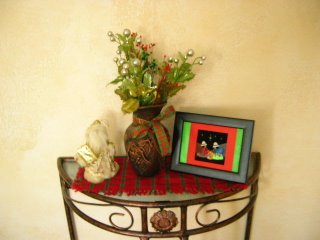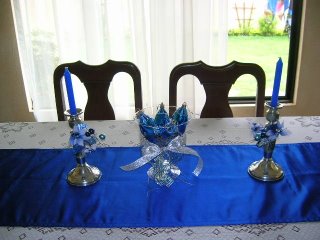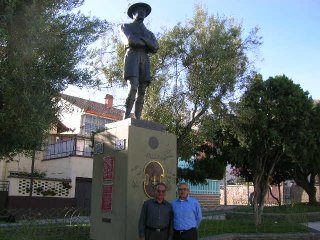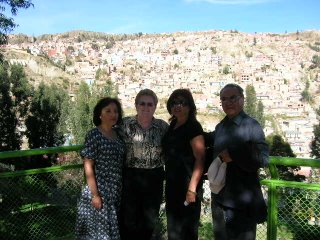 Since it is bargain shopping time now that the holiday season is upon us, I am posting two blogs in one setting, hoping I don't ramble too much and make everyone bored.
First, I want to post a couple of pictures of our recent trip to La Paz and Tarija. Sorry there are no picture of Tarija, our camera batteries died, we bought more and they turned out to be dry, and then, hey, we weren't very impressed with Tarija anyway :

I am including a picture of Daneil and his Tio Juan. Tio Juan is only 15 years older than Daniel - the same age difference as between Ruben and Daniel. The picture here was taken at the same location where the two posed over fifty years ago. They look alike, don't you thnk? When Daniel was a young child living in La Paz, his Tio Juan, single, a university student, lived with them and so they are very close. The other picture is of two of Daniel's cousins taken at a city park. In the backgroud you see the mountains and , yes, those are tiny houses scattered all across the canyon which is the city of La Paz. La Paz, by the way, impressed us more than Tarija. Its parks, green areas are so well groomed and inviting.

Next... Thanksgiving....:
My mother sent us a clever poem about making Thanksgiving simpler by just going out for a hamburger. We did just that. Yes, we went to Burger King (sorry, kids, we don't like Toby Burgers) right after calling each of the kids and parents for our holiday greetings and well-wishes. So in Bolivia, what to you do following Thanksgiving since there are no early sunrise shopping adventures to tempt you out of bed? Actually, things have changed quite a bit since years ago. Just as stores in the US have their holiday sqeeze on, so do the stores here. Artificial trees are in every store. So, Friday we headed to a large supermarket where I told Daniel I just wanted to check out a few things while he waited on a park bench. One hour later I had the needed supplies to make some holiday center pieces similar to what we had seen at a holiday bazaar in La Paz, where I had commented after looking at the hefty pricetags, "I can make that." So I did. Here are a couple of pictures of two of the four holiday arrangements I made on Friday. (by the way, included with the vase of ornaments is a lovely ornament - silver cubes - that Novali had given us last year.)