The Christmas Program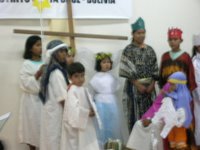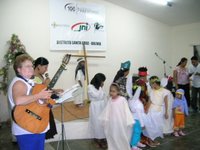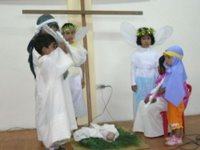 Well, I opened my big mouth and suggested we have a Christmas Program at church with the children presenting the story of Christmas. It seems that in the last few years the church did not have much of a program, not wanting to get entangled with all the hoopla of Christmas trees, the mistaken idea of worshiping the baby Jesus, etc. The pastor, his wife and I talked, and after the conversation, I realized that I had convinced them and that probably I was the one they were looking to for direction. Oops! But I plunged in.
I tranlated a beautiful Peterson song, "Just a Manger in the Shadow of a Cross" . I taught it to the children along with "Away in a Manger" and another Latin American Carol. We got some children together to act the parts, found enough robes, clothes, shawls, to make some costumes and rehearsed. Well, we didn't rehearse much. I went to one rehearsal in which I was the only one there besides the pastor's wife. One Sunday it rained all day, and so that ruined a pracitce....etc.....
The pastor also decided I should teach the congregation some Christmas Carols and so every Sunday for a month, we sang two of the four carols we had decided on. The ladies also wanted to sing. So we got together for a song in the feminine range.
Well, Dec. 23 was the night. The service was to begin at 7:00 and the children to be there at 6:30. Here we joke about "hora Boliviana" meaning we start when we are ready. So at 8:00 with very few in the church and fewer children than all the costumes we had..... I said let's start; maybe the music will get them here! By 8:30 our sanctuary we nicely full and we had a lovely time. One of the our six year old shepherds didn't come, so we quickly dressed a 3-year old in the huge costume. She was the cutest shepherd. Looked exactly like a Precious Moments figurine and walked down the aisle and into position with great pomp! Mary and Joseph, a brother and sister, started out just fine, Joseph even put his arm lovingly around Mary while escorting her down the aisle as he had been instructed, but the harmony didn't last. Once on stage they had a spat about where Mary was supposed to sit. We laughed , the children sang their hearts out and we were all proud of them. We ended the evening singing by candle light and with guitar, "Silent Night".